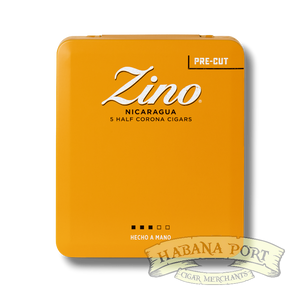 COO: Dominican Republic
Wrapper: Connecticut Ecuador
Zino Nicaragua is the cigar line for those who seek an A to Z of flavors – a blend of tobaccos which perfectly matches their spontaneous and adventurous lifestyle.
Medium intensity with pleasant aromas of fresh pepper, salted nuts and dark chocolate. Perfectly suited for novices or those seeking convenience with the pre-cut feature.
Suitable for dynamic aficionados who wish to enjoy their cigars in a more spontaneous setting, as no cutter is required, the Zino Nicaragua Half Corona is ideal for novices who do not have a lot of cutting experience. Perfect also for aficionados who may appreciate a shorter enjoyment time. The handmade premium long-filler cigar offers an exceptional value. This small format in a handy tin is very suitable for an on-the-go lifestyle with cigars in perfect condition.