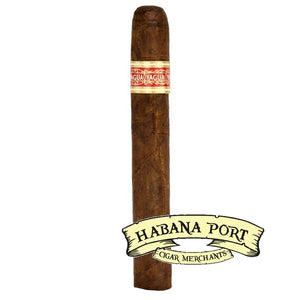 COO: Nicaragua
Wrapper: Connecticut Broadleaf
Yagua by J.C. Newman is inspired by the grandfather of Lazaro Lopez, the manager of the J.C. Newman PENSA factory in Nicaragua. Lopez's grandfather used to smoke cigars in Cuba that were made without the use of traditional cigar molds. Instead, the cigars would be rolled and then wrapped with rope made from the royal palm leaf. The end result is referred to as a yagua, which is also the name used for the long rods of tobacco used in the andullo tobacco process. Because of the lack of a uniform mold, the cigars would oftentimes come in slightly different shapes. And that's the process J.C. Newman is doing now.
J.C. Newman's Yagua uses a Connecticut broadleaf wrapper over a Nicaraguan binder and Nicaraguan fillers. The wrapper is somewhat unique because the company decided to use wrappers that weren't entirely done with the tobacco processing phase, the idea being it will give the cigar a bit of an edge. The cigars are then banded and then tied with the rope from the royal palm tree. 
The cigars are then packed with an actual royal palm leaf and sold in boxes of 20. The company says that the cigars will return to a more uniform shape within a few days of the rope being untied.
-halfwheel.com