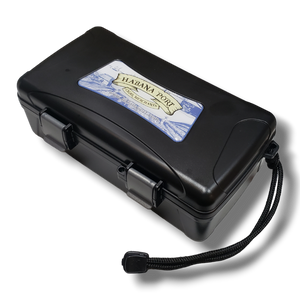 The Xikar Habana Port 10ct Travel Humidor is the ultimate cigar connoisseur's accessory. Made to store about 10 cigars, the tight seal creates a protective barrier for your treasured stock. Simply include a Boveda pack and do not worry about maintaining your cigars. The strength of the hard polymer material will make sure your cigars will never be crushed. A soft interior padding further secures the cigars.
Adorned with the romantic imagery of the port of Havana and our company banner, advertise your support of Louisiana's iconic tobacconist all while traveling with your favorite smokes.
Not too small and not too large, this goldilocks travel humidor is one of our best-selling cigar accessories.