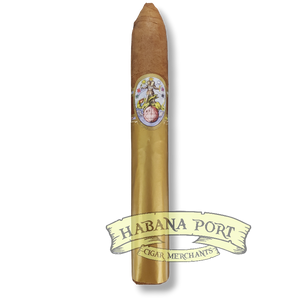 COO: Dominican Republic
Wrapper: Claro Habano
"The search for the right cigar is something we all know. It can take minutes, hours, or days. We walked the rows of vintage cigars to seek a certain kind of cigar. Our library of options takes time and patience to search, but the excitement is always there, because who knows what you could find.
We ended up finding two blends, and while they are different cigars, they were a perfect pair. Which is, of course, why they are called the "Sir" and "Madam". The "Sir" uses a "Claro" Habano wrapper and the "Madam" uses a higher priming Habano wrapper with a larger amount of oil, it is also a little darker.
As cigar smokers we have an almost compulsive need to share the truly special cigars, and that is the true reason for the entire Black Bag Job project."
-Tabacalera Palma
MSRP: $12.20
Habana Port: $10.99
Also available in packs of 5