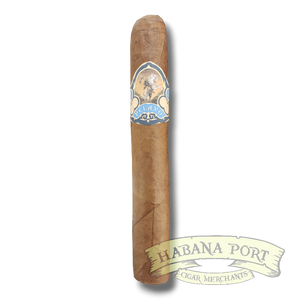 COO: Dominican Republic
Wrapper: Mexican San Andres 
Binder: Mexican San Andres 
Filler: Dominican Republic and Nicaragua
The Iberian legend of Pelayo is shrouded in mystery yet his influence shaped western civilization forever. Amid the Moorish expansion into Europe in the early 8th century, a Visigothic nobleman from Asturias rallied a small group to defend their lands. Despite being heavily outnumbered, Pelayo and his followers took refuge in a cave. Under the Cross of Victory, Pelayo ultimately became the Salvation of Spain. The success at the Battle of Covadonga cemented Pelayo as King of Asturias and initiated the reconquista of the Iberian Peninsula.
The Molina Family has crafted a blend whose flavor profile includes a mix of espresso, caramel, and oak barrel. Medium-plus in strength, the SMS pairs nicely with a dark rum, añejo tequila, or bourbon. Hecho a mano por Tabacalera La iSLA.
Also available in boxes of 25.