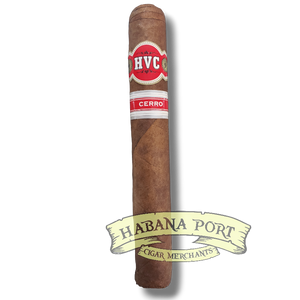 COO: Nicaragua
Wrapper: San Andres Maduro
Elevate your smoking experience with the HVC Cerro Maduro Toro cigar. Meticulously handcrafted in Nicaragua, this exceptional cigar showcases the artistry and dedication of HVC's master blenders.
The HVC Cerro Maduro Toro features a rich and robust blend of premium Nicaraguan tobaccos, carefully selected for their distinct flavors and aged to perfection. From the first draw to the last, you'll be captivated by its complexity, with notes of dark chocolate, espresso, and a subtle hint of spice. The medium-to-full body delivers a satisfying strength that is both bold and balanced.
Each HVC Cerro Maduro Toro is meticulously rolled by skilled artisans, ensuring a flawless construction and an even burn. The dark and oily Maduro wrapper adds an extra layer of richness to the smoking experience.
Indulge in the luxurious world of HVC with the Cerro Maduro Toro cigar. Whether you're a seasoned connoisseur or a passionate beginner, this cigar is sure to impress. Experience the art of Nicaraguan craftsmanship and savor the moments of pure enjoyment.
Add the HVC Cerro Maduro Toro cigar to your collection and discover why HVC has become synonymous with exceptional quality and flavor.
Order your HVC Cerro Maduro Toro today and embark on an unforgettable journey of flavor and sophistication.
Available in boxes of 20