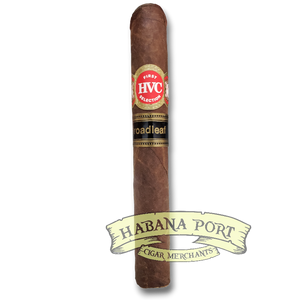 COO: Nicaragua
Wrapper: Connecticut Broadleaf
Immerse yourself in the remarkable world of HVC with the First Selection Broadleaf Toro cigar. Meticulously handcrafted in Nicaragua, this exceptional cigar is a testament to the brand's commitment to excellence and passion for quality.
The HVC First Selection Broadleaf Toro showcases a carefully selected blend of premium Nicaraguan tobaccos, enveloped in a luscious Broadleaf wrapper. With every draw, you'll be greeted by a symphony of rich and flavorful notes, including dark chocolate, espresso, and hints of earthy sweetness. The medium-to-full body delivers a satisfying smoking experience that is both smooth and complex.
Each cigar is meticulously rolled by skilled artisans, ensuring impeccable construction and a consistent burn. The Broadleaf wrapper adds an extra layer of depth to the smoking experience, enhancing the overall richness and complexity.
Whether you're a seasoned aficionado or a cigar enthusiast exploring new horizons, the HVC First Selection Broadleaf Toro is a must-try. Immerse yourself in the world of Nicaraguan craftsmanship and indulge in moments of pure enjoyment.
Experience the epitome of cigar excellence with the HVC First Selection Broadleaf Toro. Elevate your smoking experience and savor the passion and dedication poured into every aspect of this remarkable cigar.
Order your HVC First Selection Broadleaf Toro today and embark on a journey of flavor and sophistication.
Available in boxes of 20.