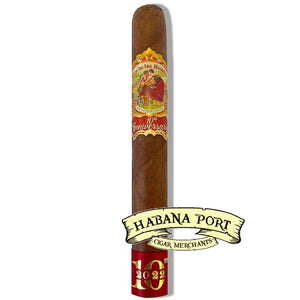 COO: Nicaragua
Wrapper: Nicaragua
Available in boxes of 12.
"The cigar is a 6 1 /2 x 52 Nicaraguan puro that is a modified blend of the regular production Flor de Las Antillas line. The 10th anniversary version exclusively uses tobaccos grown by the Garcia family, while the wrapper is a higher priming than the original's blend, meaning it is darker and a bit stronger than the regular production version.
Production is limited to 5,000 individually numbered boxes of 12 cigars, a total run of 60,000 cigars, each of which comes in a coffin.
Additionally, each of the Flor de Las Antillas 10th Anniversary cigars wears a modified primary band—a design that also seals the coffins—and a foot ribbon around its foot to indicate that it is the limited edition version. The 12 cigars in each box are a nod to 2012, the year in which the Flor de Las Antillas line debuted."
-halfwheel.com