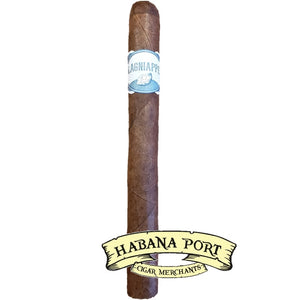 In the opening episode of The Life Puro podcast, host Luis Molina is joined by close friend Grayhawk Perkins. Grayhawk is a cultural icon in Louisiana who has a storied career as a storyteller and musician, subjects which Luis and Grayhawk discuss further over a few cigars.
In this episode, they smoke Lagniappe Churchill. Crafted by Aganorsa, one of the leading Nicaraguan cigar manufacturers and tobacco growers, Lagniappe is one of Habana Port's proprietary brands. A Nicaraguan blend with a Habano Maduro wrapper, the flavor profile is smooth but elicits an espresso and oak spectrum. Select a quantity of 25 to receive the nicely presented bundle.
The Life Puro is a weekly podcast aimed at holding conversations discussing the finer aspects of life, presented by Habana Port. New episodes drop every Wednesday at 2pm Central and can be found on all major streaming platforms.
Cigar Information:
COO: Nicaragua
Wrapper: Habano Maduro
Strength: 3 out of 5