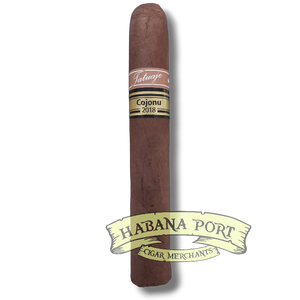 In the 6th episode of The Life Puro podcast, host Luis Molina is joined by Jason Ricci, a world-renowned blues and jazz harmonica player and cigar aficionado. Jason especially enjoys Tatuaje and is a member of the Saints and Sinners club.
In this episode, they smoke the new Tatuaje Cojonu 2018 cigar. The Tatuaje Cojonu series was first launched in 2003 and gets its name from a shortened form of the Spanish word cojonudo, a Cuban slang word that means ballsy and is a reference to the strength of the line's blend that uses an Ecuadorian Habano wrapper and Nicaraguan binders and fillers. The line was created with a plan to release a new installment every three years, but 2015 and 2018 were skipped. Coffee, initial spice, and bourbon barrell are the dominant notes. Select a quantity of 21 to receive the box.
The Life Puro is a weekly podcast aimed at holding conversations discussing the finer aspects of life, presented by Habana Port. New episodes drop every Wednesday at 2pm Central and can be found on all major streaming platforms.
Cigar Information:
COO: Nicaragua
Wrapper: Ecuador Habano
Strength: 4 out of 5