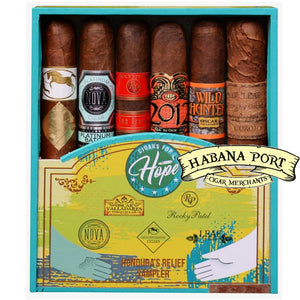 COO: Honduras
This 6 cigar sampler box is called CIGARS FOR HOPE - HONDURAS RELIEF SAMPLER. 
This is a collaboration with Honduran cigar manufacturers aiming to help their communities who are struggling because of the two storms that hit the region in November 2020. People are still in shelters to this day. Hospitals are overwhelmed and in need of a lot of supplies and added to that, Covid 19 is exacerbating the situation.
The companies that donated all these Toro-sized cigars for this projects are:
Oscar Valladares Tobacco - Wild Hunter Natural & 2012 by Oscar Corojo
Leaf by Oscar - Leaf by Oscar Corojo
Rocky Patel - Rocky Patel Sun Grown 
Cavalier Genève - Cavalier Genève White Series
Nova Cigars - Nova Platinum Batch
When you purchase this set, you will help out the relief efforts in Honduras. Thanks for your consideration.