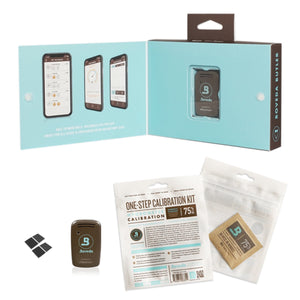 The Boveda Butler includes:
1 - Boveda One-Step Calibration Kit
1 - Boveda Butler (2" x 1 1/4" x 1/2")
1 - User's Guide (Additional download available)
Technology:
Eliminates the need for separate hygrometer and thermometer.
The Boveda Butler must be calibrated before use to ensure accurate readings.
Uses standard CR2032 coin battery (included)
The Boveda Butler can store up to 10 days of data when out of Bluetooth range of the app. If the period of no connectivity extends beyond 10 days, the sensor can only download the last 10 days of data to the app when connectivity is re-established.
Boveda Butler Remote Smart Sensor