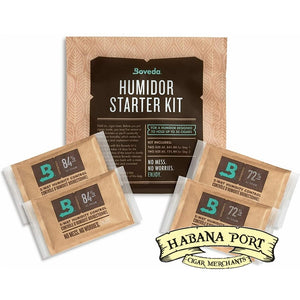 JUST 2 EASY STEPS UNTIL THAT NEW WOOD HUMIDOR IS READY FOR YOUR CIGARS.
All-you-need to season and maintain a wood humidor is now available in one easy-to-use complete humidor starter kit. No more hassling, guessing, or toiling with a wood humidor. Easily season a wood humidor in just one-step with the included Boveda 84% RH. Nothing to measure, fill, or spill. Improperly seasoning with distilled water can shock and permanently damage a wood humidor and its seal. Don't risk the wipe-down method that can crack and warp or breed mold and mildew in a brand new wood humidor.
Why season a new wood humidor? You'll avoid constantly battling low humidity levels that make for dry cigars and disappointing smokes. Your goal is to help your humidor achieve 65 to 75% relative humidity (RH) to maintain an ideal environment for premium cigars.
The Boveda 84% RH automatically gets to work gradually raising the moisture level while precisely providing moisture directly to the cellular structure of the wood, so it doesn't rob moisture from premium cigars. Creates a tighter seal for a desktop humidor. Before seasoning, empty your humidor put cigars in a Boveda Humidor Bag or a tupperdor with Boveda 69% RH. (Both are available separately.) After seasoning, dispose of the seasoning packs and replace them with the include Boveda 72% RH, which maintain ideal RH in a wood humidor.
Lasts for 2-4 months. When the Boveda maintenance packs that have been used/stored at room temperature start to get dry and crisp, it's time to replace them. The more Boveda you use, the longer they last. The more you expose your Boveda to air, the harder it has to work. For best results: season a new wood humidor with Boveda before you add cigars, then re-season a wood humidor 1-2 times per year. Note: Do not mix different Boveda RH levels within the same humidor. And do not use Boveda in the same humidor with other humidification products because they will fight against each other and reduce the efficiency of Boveda.
By purchasing this Starter Kit, you are saving 25% as compared to buying the packs a la carte.