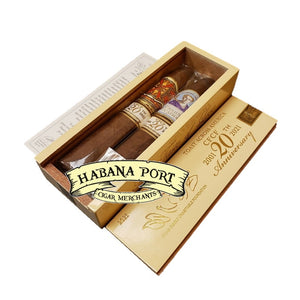 COO: Dominican Republic
Wrapper: Assorted
The Arturo Fuente Toast Across America Sampler is an annual collection of two cigars in a individual coffin from Arturo Fuente. One cigar is from Fuente, usually a Fuente Fuente OpusX, and the other from J.C. Newman Cigar Co., usually a Diamond Crown. The proceeds for the boxes go to charity and the sampler features two amazing cigars that are only available in this sampler. There is a very limited number of these coffins available. A portion of the proceeds of this cigar goes to the Cigar Family Charitable Foundation, which helps build schools & clinics in the Dominican Republic, receive outstanding limited edition cigars while helping a great charity.
Each sampler contains one of each of the below:
1 - Arturo Fuente Opus X Shark
1 - Diamond Crown Julius Caeser Shark
This set comes packaged with an A. Fuente Opus X Shark and a Julius Caeser Shark both with a secondary band noting the 20th anniversary of the Cigar Family Charitable Foundation.