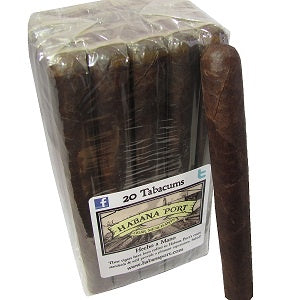 In the 2nd episode of The Life Puro podcast, host Luis Molina is joined by fellow podcast host Patrick Gremillion. Patrick hosts the Patty G show, a weekly podcast focused on Baton Rouge entrepreneurs sharing local stories,
In this episode, they smoke both Tabacum Churchill wrappers. First crafted for Habana Port over a decade ago in Nicaragua, Tabacum is a great everyday blend that won't break the bank. These cigars have been rolled to Habana Port's exact standards & will provide a pleasant experience. Order 20 and receive a bundle.
This one is the Maduro which has a sweet, toasty, dark cocoa profile.
The Life Puro is a weekly podcast aimed at holding conversations discussing the finer aspects of life, presented by Habana Port. New episodes drop every Wednesday at 2pm Central and can be found on all major streaming platforms.
Cigar Information:
COO: Nicaragua
Wrapper: Maduro
Binder: Nicaragua
Filler: Proprietary blend of aged Nicaraguan, Honduran & Dominican long filler tobaccos
Strength: 2 out of 5