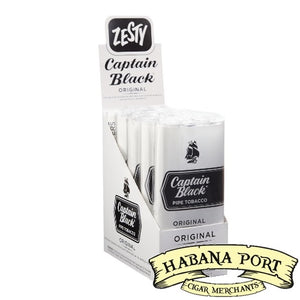 COO: US
Captain Black Original White (Regular) is a mixture of Virginia, Burley and Black Cavendish with a distinctively warm, pleasantly sweet flavor and aroma. This is the 1.5 ounce bag/pouch.
Tobacco Selection: Rich Black Cavendish tobaccos, steamed to seal in the flavor and character of the leaf. To this, mellow Burleys and Golden Virginias are added for depth of flavor and a balanced taste.
Tobacco Cut: Loose cut
Flavor/Aroma: A sweet taste with hints of vanilla. Delightfully aromatic.