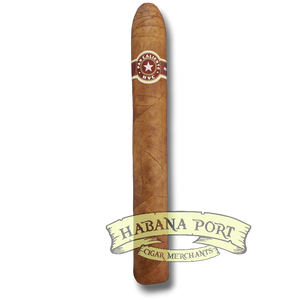 COO: Nicaragua
Wrapper: Criollo '98
Set your taste buds ablaze with the HVC Pan Caliente Toro cigar. Meticulously handcrafted in Nicaragua, this exceptional cigar embodies the spirit of HVC's dedication to quality and innovation.
The HVC Pan Caliente Toro showcases a fiery blend of premium Nicaraguan tobaccos, selected for their bold and intense flavors. With each draw, you'll experience an explosion of taste, with notes of black pepper, earth, and a hint of dark chocolate. The medium-to-full body provides a robust and invigorating smoking experience.
Crafted by skilled artisans, each Pan Caliente Toro cigar is rolled with precision, ensuring impeccable construction and a steady burn. The Toro size allows for a substantial smoking time, allowing you to fully immerse yourself in the rich flavors.
Whether you seek an adventure for your palate or a passionate smoking experience, the HVC Pan Caliente Toro delivers. Experience the artistry of Nicaraguan craftsmanship and savor moments of pure excitement.
Ignite your smoking experience with the HVC Pan Caliente Toro. Add this exceptional cigar to your collection and unleash the fiery flavors that make HVC cigars truly remarkable.
Order your HVC Pan Caliente Toro today and embark on a journey of flavor and sophistication.
Available in boxes of 25.