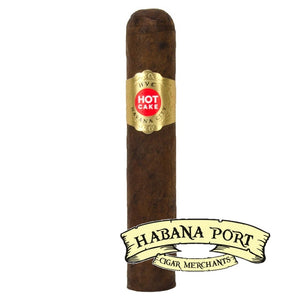 COO: Nicaragua
Wrapper: Mexican San Andres
Delight your senses with the HVC Hot Cake Laguito #4 cigar. Handcrafted with precision in Nicaragua, this exceptional cigar embodies the art of blending and craftsmanship that HVC is renowned for.
The HVC Hot Cake Laguito #4 showcases a captivating blend of premium Nicaraguan tobaccos, carefully selected for their unique flavors and qualities. With each draw, you'll be treated to a harmonious fusion of flavors, including notes of cedar, nutmeg, and a subtle sweetness. The medium-bodied profile provides a balanced and enjoyable smoking experience.
Crafted by skilled artisans, each Hot Cake Laguito #4 cigar is meticulously rolled, ensuring impeccable construction and a smooth, even burn. The Laguito #4 vitola offers a perfect balance between size and smoking time, allowing you to fully immerse yourself in the flavors without rushing.
Whether you're a seasoned aficionado or exploring the world of cigars, the HVC Hot Cake Laguito #4 is a delightful choice. Experience the mastery of Nicaraguan blending and savor the moments of pure relaxation.
Elevate your smoking experience with the HVC Hot Cake Laguito #4. Add this exceptional cigar to your collection and indulge in the craftsmanship and quality that define HVC.
Order your HVC Hot Cake Laguito #4 today and embark on a journey of flavor and sophistication.
Available in boxes of 25