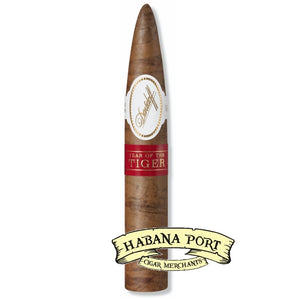 COO: Dominican Republic
Wrapper: Ecuador Connecticut
For the first time in Davidoff's history, they use a Connecticut wrapper on one of their Limited Editions. Through a natural treatment of the wrapper leaf before rolling, the fur markings of the tiger visually come alive on the cigar.
SELECTION OF THE LEAF
A Connecticut wrapper that is bright in colour and smooth in structure is selected to obtain the best contrast.
TOBACCO VEINS
Tobacco veins are being wetted and cautiously placed cross wise on the wrapper leaf which is extended on a flat surface.
PRESSING OF THE LEAVES
The wrapper leaves are then carefully placed and pressed for 48 hours. The amount of pressure is crucial. Too little will not give the desired pattern and too much will break the leaf.
TIGER PATTERN
Very carefully, after a couple of days, the tobacco veins are removed from the leaves. This is a very delicate process so as to not permanently damage the wrapper.
STORAGE OF THE LEAVES
These special wrapper leafs are then again aged until they are crafted on the cigar. The above described process provides a permanent visual pattern on the leaf which is fully natural.
• Each cigar retails for $69.95.